Jacqueline Jones
Program Director
Class XII (2016)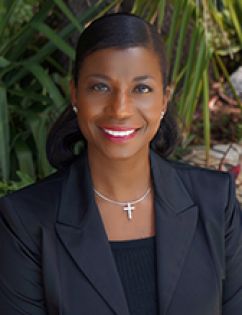 Jacqueline is the current Program Director of the Masters Leadership Program and a graduate of Class XII. She strongly believes that the nonprofit community is the critical component that makes a good city a "Great" city. The "bond" that seals the gaps and seams of everyday life in a community.
Jacqueline is retired form the Air Force after 24 years of service. She held a wide variety of positions as a career Information Technology Officer to include commanding two Air Force squadrons, and a Joint Forces assignment in Counter-Terrorism operations. As an Air Force leader, she served at the Pentagon and had multiple leadership deployments to the Middle East supporting Operation Enduring Freedom and Iraqi Freedom. Her AF career culminated as the Deputy Commander of the 690th Network Support Group at Lackland Air Force Base, Texas where she was selected for promotion to the rank of Colonel.
Jacqueline and her husband Christopher Herring are co-owners of a private preschool. New Horizons School is a state licensed Child Development Center for 136 students. She oversees the early childhood development and education of infants, toddlers, preschoolers and pre-kindergarten children.
Empowered with a MBA, a 24 year Air Force career, and Jesus Christ as her ultimate life coach, Jacqueline was able to seamlessly transition from serving her country to serving God's children and her community.
Jacqueline has a Bachelor's degree in Computer Information Systems from Ohio University; a MBA from the University of Nebraska Lincoln; a Masters of Military Operations Arts, and a Masters of Strategic Studies from Air University. She graduated from in-residence programs at both Air Command and Staff College, Air War College, and the Joint Armed Forces Staff College in the top tier of her class. Some of her awards include the Air Force Association "Woman of Distinction" Award, the US Air Forces Europe Communications and Professionalism Award of the Year, and the Distinguished Armed Forces Communications & Electronics Association Leader of the Year. In 2014, Jacqueline graduated from Leadership Northeast ISD, as a new education ambassador for San Antonio and was nominated to the Who's Who in San Antonio Women's edition.
She lives in San Antonio with her husband and two children Maya and Olivia.