Susan Pamerleau
Class VIII (2012)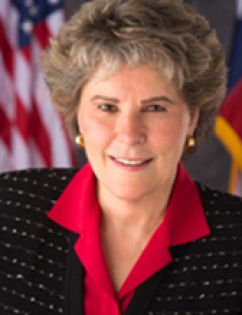 Susan L. Pamerleau served as the 38th Sheriff of Bexar County from January 2013 – December 2016, leading the eleventh largest Sheriff's Office and the sixteenth largest jail in the nation.
As Sheriff, Pamerleau led an organization of almost 2,000 sworn and civilian personnel and overseeing a budget of almost $200 million.
Sheriff Pamerleau co-chaired the American Bar Association's (ABA) Law Enforcement Sub-Committee, and also co-chaired the ABA Law Enforcement Task Force on Body Cameras. She has participated on panels sponsored by the American Correctional Association and the Department of Justice Bureau of Justice Administration, and is frequently asked to keynote national and state conferences, including the Florida Smart Justice Summit (2015), Correctional Institute of Texas' 2nd Annual Mental Health Conference (2015) and Congressional briefing on Mental Illness in the Criminal Justice System (2014). Sheriff Pamerleau was also invited by Senator John Cornyn to testify before the Senate Judiciary Committee on Mental Illness in the Criminal Justice System (2016). As part of the Bexar County delegation, she also participated in the National Stepping-Up Initiative (2016) and as a facilitator for the White House Workshop on Data Driven Justice Initiatives (2016).
She served 32 years in the United States Air Force, retiring at the rank of Major General. During her Air Force career she served in the Pentagon developing plans, programs, and budget requirements for personnel programs, and base realignment and closure actions. She served in personnel management positions in Washington, D.C., and Texas and commanded the Air Force Reserve Officer Training Corps (AFROTC) at Maxwell Air Force Base in Alabama and the Air Force Personnel Center at Randolph Air Force Base in Texas.
After retirement from the Air Force, she also served as Senior Vice President at USAA, a Fortune 200 company, and serves on the board of directors for Government Personnel Mutual Life Insurance Company. Honored in 2009 as an Outstanding Alumna, University of Wyoming College of Arts & Sciences.
Serves on the Advisory Board for ChildSafe of San Antonio, the Child Advocates of San Antonio (CASA) Board of Directors, the Bexar County Family Justice Center Foundation Advisory Board, and active in numerous civic and charitable organizations locally. Served on the Board of Directors for the Sheriffs Association of Texas, and actively involved with Major County Sheriffs' Association, National Sheriffs' Association, and the American Correctional Association.
Sheriff Pamerleau received her Master's degree in Public Administration (MPA) from Golden Gate University in San Francisco. Phillips University conferred an honorary Doctorate degree on Pamerleau in 1998. She received her Bachelor's degree in Sociology from the University of Wyoming. Also, attended multiple professional schools, including advanced executive courses at Northwestern University's Kellogg Graduate School of Business, Harvard University's John F. Kennedy School of Government, and The Wharton School at the University of Pennsylvania. She is a graduate of the FBI National Executive Institute (2014).