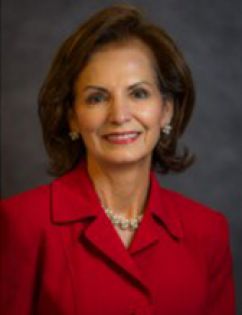 Mary Alice Cisneros is a life-long resident of District 1. She was born and raised in Prospect Hill. A graduate of Providence High School, Mary Alice attended San Antonio College and Our Lady of the Lake University.
In May 2007, Cisneros was elected to the San Antonio City Council representing District 1. She successfully served two 2-year terms for residents in District 1 and the City in general. Cisneros has been dedicated to public service and giving back to her community. She had been elected as a trustee of the San Antonio Independent School Board. She also served as: chairman of Communities in Schools; chair of the Southland College Scholarship Program; a member of the San Antonio Youth Literacy Board; a member of the Mayor's Commission for Children and Families; chair of the J.C. Penney Golden Rule Awards; chair and founder of the Women's Employment Network Odyssey Awards; and finance coordinator of the Jimenez Senior Citizen Thanksgiving Dinner. Cisneros was honored as the 1985 Outstanding Democratic Woman of the Year. She also was inducted into the San Antonio Women's Hall of Fame. In 1988, she was appointed a delegate to the Democratic National Committee. During her tenure as Council member, Ms. Cisneros served as Secretary for the Democratic Municipal Officials for the National League of Cities.
Upon completion of her term as a City Council person, she was appointed as President of American Sunrise, a non-profit community organization focused on education and re-building communities. Cisneros is also the president of River City Management, a small, family-owned business.
The Councilwoman is married to Henry G. Cisneros, former Mayor of San Antonio and former Secretary of Housing and Urban Development under President Bill Clinton's Administration. They have three children: Teresa Cisneros Burton, wife of Sean Burton; Mercedes Cisneros Badger, wife of Brad Badger; and son, John Paul Anthony. The Cisneros have four grandchildren: Russell, Grace, Natalia and Karina.