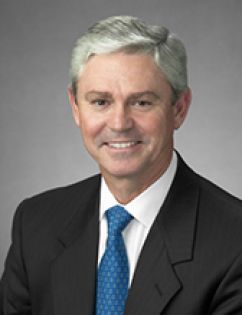 David McGee, President and CEO of Amegy Bank in San Antonio
BBA, Economics and Finance, Baylor University – 1980



Has 37 years in Commercial and Corporate Banking having begun his career with the First National Bank in Dallas, followed by 23 years with Texas Commerce Bank which later became JPMorgan Chase where he served as President from 2002-2006.



During his 32 years in San Antonio, David has been involved in the banking relationship with nearly 75% of the top 200 businesses in San Antonio as well as numerous family owned businesses across many industry segments. Throughout his career he has been engaged in various buy-side and sell-side engagements, led numerous syndicated credits and advised on private placements and other capital raising assignments for local businesses.



David started Amegy Bank San Antonio in 2007 and since that time he has developed a team of more than 60 bankers responsible for the issuance of more than $1Bn in loan commitments to businesses in San Antonio and Central Texas.



Amegy Bank of Texas is a $13Bn Texas-based Commercial Bank serving Houston, Dallas, San Antonio and Austin markets in industry segments ranging from: Commercial & Industrial, Commercial Real Estate, Oil & Gas, International, Private Banking, Trust & Investments, Mortgage and Treasury Management.



Amegy Positions: Chair, Local Credit Committee, on a State-wide level, Member – Amegy's Senior Loan Committee, Management Committee, Credit Risk Committee, Executive Management Committee.



Community Involvement:
Greater San Antonio Chamber of Commerce, Chair, 2014
San Antonio Water System, Board of Trustees, 2016
San Antonio Economic Development Foundation, Vice Chair; 2016-17
North San Antonio Chamber of Commerce, Board
San Antonio Hispanic Chamber, Board
YMCA of San Antonio, Board and Chair of the Christian Initiative Committee
Cancer Therapy & Research Center, Development Board
United Way, Board of Advisors and the Family Issue Council
Wayside Chapel Missions Committee, Chair, 1997-2006
Billy Graham Evangelical Association; San Antonio Crusade Finance Chair '97
Family:



David and Paula have been married for 32 years. Paula is a practicing attorney focused on contract law and they have two sons, William and Michael.