Darrell Jones
Class XII (2016)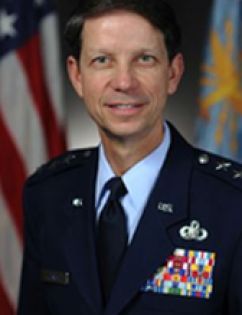 Darrell Jones is an accomplished human resources leader, diversity leader, communicator and CEO. He rose to the pinnacle of his profession as the head of personnel (Human Resources) for the U.S. Air Force as a highly decorated Lieutenant General (3-star). Today, he is the President and CEO of a large non-profit senior living operation in Texas.
During a 34-year military career, he held a variety of demanding positions. He organized international-level events for the 50th Anniversary of WWII in Europe, managed personnel operations during combat in Iraq and Afghanistan, commanded the largest installation and training mission in the Air Force and planned and executed intricate National Special Security Events in the National Capital Region (Washington, DC). Since leaving the military, he developed and led training for a major financial institution, conducted research and made policy recommendations as part of the RAND Corporation, lectured and mentored advanced degree students at an Ivy League university and led strategy for an emerging information technology company.
As President and CEO of Blue Skies of Texas (formerly Air Force Village), he oversees a Life Plan Community of 1,000 residents offering independent living, assisted living, skilled nursing, memory care and hospice services at two locations in San Antonio, TX. This nationally recognized senior living community is now open to military and civilians alike.
As Senior Fellow at the University of Pennsylvania's Fels Institute of Government, he advised students in the Masters of Public Administration program teaching public management, leadership and crisis management.
As a Management System Analyst and Adjunct Staff, RAND Corporation, he conducted research and made policy recommendations on a broad spectrum of issues facing government agencies.
As Chief Strategy Officer at AATD (All About the Data), LLC, he ensured the goals of the company aligned with their vision, championed the strategic-planning processes and forged new working relationships and partnerships.
As Senior Vice President, Enterprise Learning and Development at USAA, he led 200 people and managed a $48M budget providing 2.4M hours of annual training and professional development. He developed content for 5K students daily and administered 50K hours of training each week and garnered 6 national level training awards.
As Deputy Chief of Staff for Manpower, Personnel and Services (Chief, Human Resources Officer) for the U.S. Air Force, he directed comprehensive personnel management for 700K Air Force military and civilian personnel. He managed force levels, diversity initiatives, education and training, compensation, resource allocation, assignments, deployments and worldwide morale, welfare and recreation programs for the active duty, guard and reserve forces.
As Chairman of the Board of the Army and Air Force Exchange Service (AAFES), he set policy and direction for 241 stores and on-line retail services for 12.8M military members, retirees, and families in 50 states and 33 countries. With $8.3B in annual sales and $330M in earnings, AAFES is 6th in U.S. retail sales behind Nordstrom Department Store. As Chairman of the Board of the Defense Commissary Agency (DeCA), he set policies and goals for a worldwide chain of 241 commissaries providing groceries and household items to military personnel, retirees, and their families. With 5.5M military families eligible to shop in the commissaries, sales reached nearly $6B each year.
As Commander, Air Force District of Washington and Component Commander for the Joint Forces Headquarters-National Capital Region, he was responsible for all Air Force personnel in and around Washington, DC; as well as homeland operations, civil support, contingency operations, Air Force communications in Washington DC and the Pentagon, National Special Security Events (State of the Union, Presidential visits, etc.), security for critical nation-level assets and installations as well as ceremonial representation in the nation's capital.
Darrell held a variety of challenging positions to include commanding a squadron, a group, two wings, and the Air Force District of Washington. He also served as the Director of Manpower and Personnel at U.S. Central Command during combat operations in the Persian Gulf. He holds a Bachelor's degree from Mississippi State University and a Master's degree from Webster University. Darrell was the Air Force Outstanding Personnel Manager of the Year in 1989 and received the 2008 General and Mrs. Jerome F. O'Malley Award as the top wing commander and spouse team. He was also the 2012 Mississippi State University College of Education Alumni of the Year.
He currently serves on the Board of Directors for the Military Child Education Coalition, the Valero Alamo Bowl and the Master's Leadership Program in San Antonio.